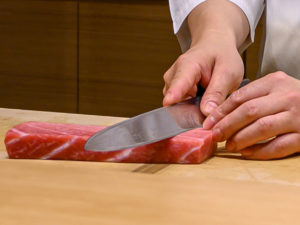 AAJ (The Association for the advancement of the Japanese Culinary art)
The Association for the Advancement of the Japanese Culinary art, AAJ, was founded in 1930, aiming to familiarize and share chefs' knowledge, recipe and the tricks of the trades among chefs. It is like a knowledge sharing model amongst high-profiled chefs.
Japanese cuisine is getting popular by the changing of mind for health and anti-aging. As a result, the number of Japanese restaurant is increasing rapidly. Furthermore, Washoku was designated to the Intangible Cultural Heritage of UNESCO in 2013.
We are thinking that it's possible to accelerate a creation of new food and food culture through adopting some essence of Japanese cuisine by world professional chefs regardless of the genres. By all means, we will be a mediator between Japanese cuisine and world professional chefs and we want to contribute to your further differentiation and your customer's satisfaction. AAJ operates following businesses and has more than 10,000 members from fledgling chefs to full-fledged chefs including Michelin starred chefs.
We work to: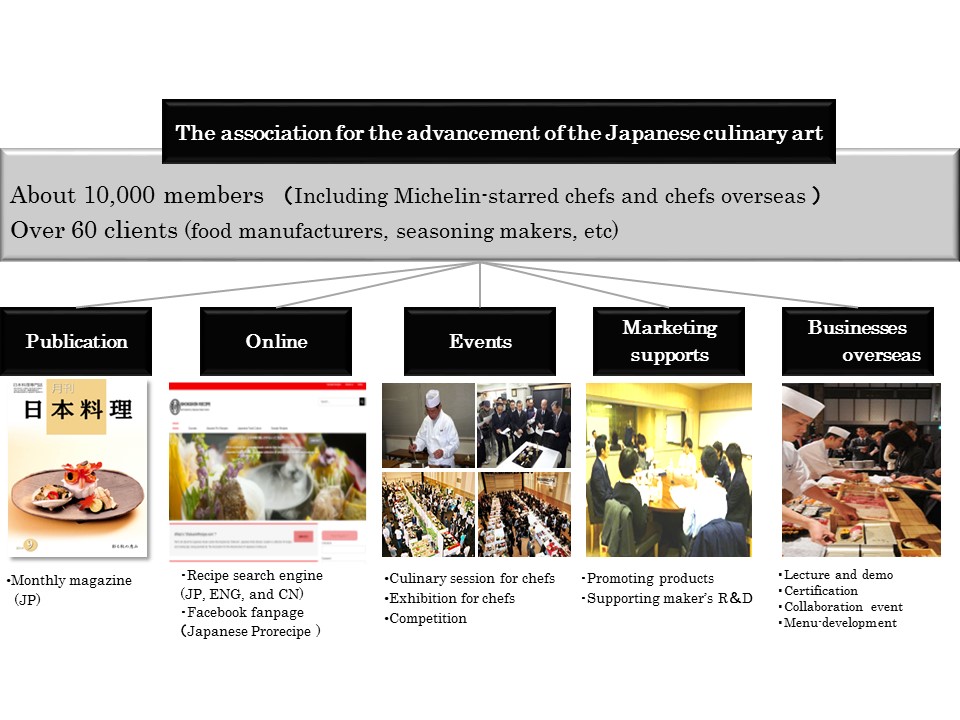 raise the profile of the advancement of the Japanese Culinary art and culture
publish the monthly magazine, 'Monthly Japanese Cuisine' ('Gekkan Nihon Ryori')
operate the recipe website for chefs (in Japanese, English, and Chinese),Facebook fanpage
hold culinary sessions for advanced chefs
support sales promotions for the seasonings & condiments manufacturers
support businesses for Japanese restaurants outside Japan
Certification of cooking skills for Japanese cuisine in foreign countries
(http://www.maff.go.jp/j/shokusan/syokubun/pdf/chori_o_e.pdf)
History
AUG 1930: Established
JAN 1931: Monthly Japanese Cuisine('Gekkan Nihon Ryori') published
May 1984: The Association for the advancement of the Japanese Culinary art was founded as Incorporated Association, approved by Minister of Agriculture, Forestry and Fisheries
AUG 2011: The recipe website, 'recipe-ru', starts to operate
APR 2014: Approved as Public Interest Incorporated Associations by Cabinet Office
NOV 2016: The recipe website in English, 'Shokunin-recipe', starts to operate
JUL 2018: The recipe website in Chinese starts to operate